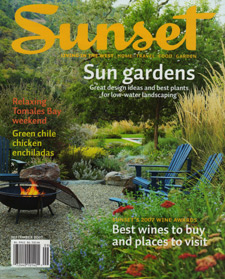 The September 2007 issue of Sunset magazine featured one of my gardens on its cover. The Stromberg garden was designed while I was in-house designer for Gardenworks Inc. Additional photos of the garden can be seen in the Projects section of this website (A Mediterranean Estate Meets Native California). I want to thank Sharon Cohoon, who wrote the informative article, and Thomas J. Story, who took the beautiful photographs.
Sun Gardens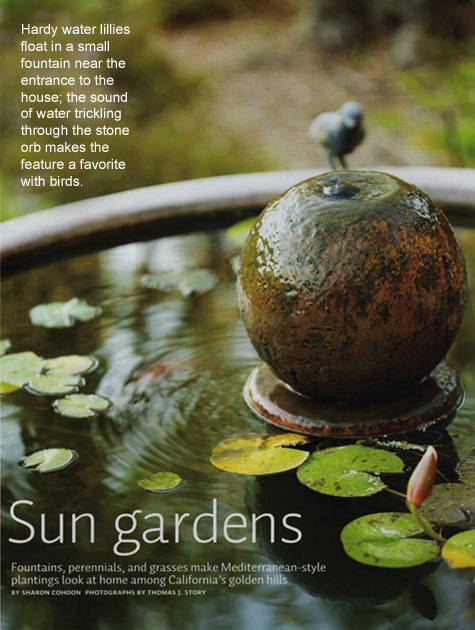 A HOUSE NEEDS TO CONNECT with its natural surroundings to feel truly at home. That's the case even when the house is a Mediterranean villa, like the one pictured on these pages. Garden designer Susan Lamont could have surrounded the Healdsburg, California home of Ross and Gillian Stromberg with a typically Tuscan landscape of clipped boxwood hedges, but those might have made the property look as artificial as a stage set. Instead, she chose the right plants to successfully bridge the gap between the Strombergs' Old World-style house and the younger, wilder landscape around it. By doing so, she also created gardens that stand up to the valley's sun.
In a courtyard left of the entry, Lamont blended Mediterranean classics such as Italian cypress and olive trees with California natives such as ceanothus. The Boston ivy covering the walls and the 'Iceberg' roses could be found at a villa in Tuscany. But the style is Western - more free-form than geometric.
To visually connect home to hills, Lamont chose ornamental grasses. She introduced a few in the courtyard; farther out she planted them en masse to echo the golden shoulders of the
surrounding slopes. Ornamental grasses change with the season - green in spring, gold in summer - just like the ones that cover the hills. "That's what makes them such great transitional plants," Lamont says. The way they reflect the sun is another asset, as is how they move in wind. "Because they're wavy and breezy and soft, the grasses make the garden feel a bit wild," she adds. One caveat: Their showy plumes can turn into seed factories and make the plants highly invasive. For this reason, Lamont chooses them carefully. Which grasses are problematic depends on where you live.
To give the grasses some more punch, Lamont added small-flowered perennials that you might expect to find in a meadow, such as asters, coreopsis, globe mallow, and toadflax. "Herbaceous perennials like asters are such fun," she says. "They disappear, you forget about them, and then they pop up again like a surprise gift."
The Strombergs wanted roses in their landscape, too. And because Cabernet Sauvignon grapes grow on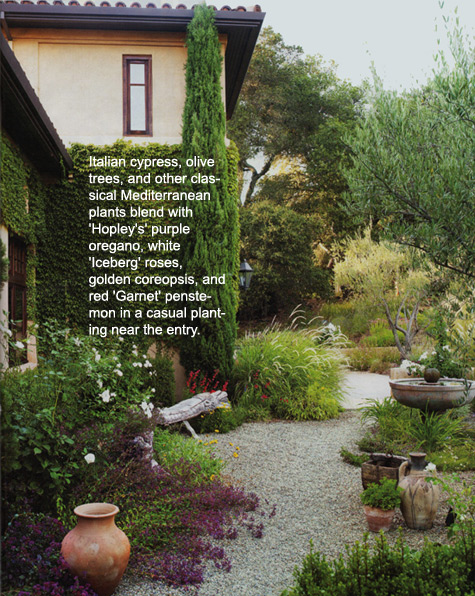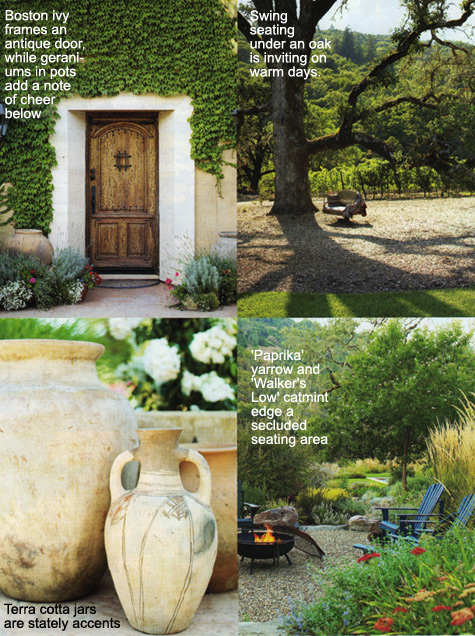 their property, Lamont found this an easy request to honor. "Roses at the end of grapevine rows are a common sight throughout the valley," she says, "so seeing the two together in the landscape here seems natural."
Thanks to the transition the gardens now provide, the Tuscan-style house seamlessly connects with the oak-covered hills of California's wine country. Instead of looking like it would rather be in Italy, the garden seems perfectly at home.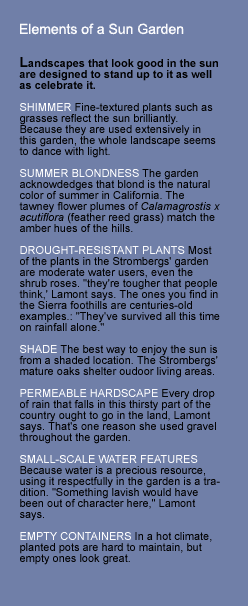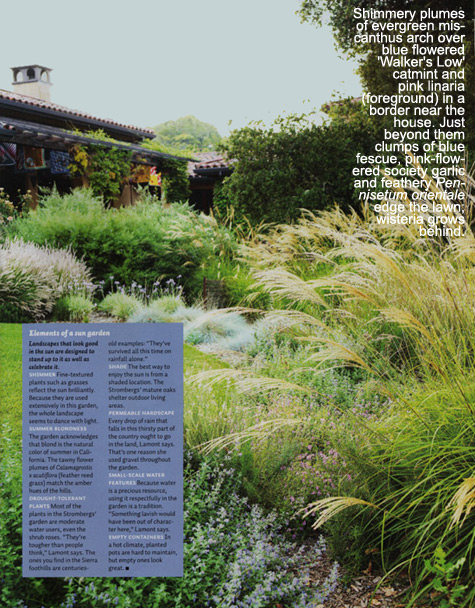 The Plants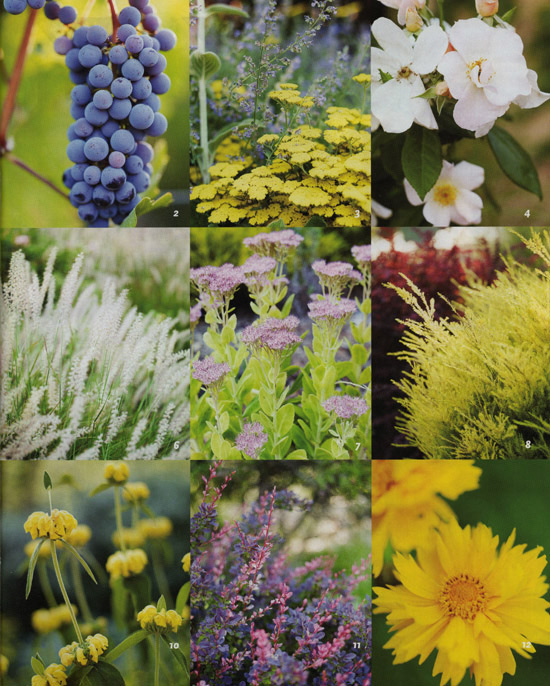 1. Feather reed grass Calamagrostis x acutiflora has a vertical growth habit and showy seed heads.
2. Cabernet Sauvignon grapes A cluster from the Strombergs' vineyard shows the seeded, pearl size grapes in various stages of ripeness.
3. 'Moonshine' yarrow The sunny hues of this Mediterranean perennial complement the violet-blue spikes of catmint Nepeta.
4. 'Sally Holmes' A vigorous white rose, it blooms in huge clusters.
5. 'Hot Cocoa' This florabunda rose bears red blossoms.
6. Pennisetum orientale A pretty, midsize (2 ft.) grass explodes with showy pink to white plumes.
7. Sedum telephium Flower clusters open purplish pink and age to brownish maroon.
8. Coleonema pulchrum 'Sunset gold' Yellow foliage distinguishes this heathlike shrub with tiny pink flowers.
9. Aster cordifolius 'Little Carlow' Deep violet-blue flowers cluster atop plants that grow 3 to 4 ft. tall.
10. Jerusalem sage (Phlomis fruticosa) Despite the showiness of its whorls of golden flowers, this Mediterranean perennial is reliably heat- and drought-tolerant.
11. Berberis thunbergii 'Rose glow' The bronzy red Japanese barberry colors up best in full sun.
12.Coreopsis grandiflora 'Sunray' Like the rest of the sunflower family, this bright yellow perennial blooms all summer on little water.
Back to Top